Joaquin in Xenosaga Episode I
Birthplace
Unknown (possibly Abraxas)
Voice actor (Japanese)
Unknown
Voice actor (English)
Unknown
"
It's guy talk. Captain, don't tell Mom!

—Joaquin to Sharon while talking to Jan

"
Joaquin Rozas was the son of Sharon Rozas, and the stepson of Jan Sauer (Ziggy).
Biography
Edit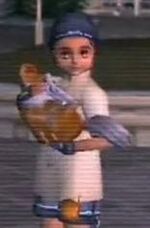 He was an intelligent, spirited and vivacious boy with a love of animals.
The death of his biological father in his early childhood made him strongly independent, and he constantly looked after his mother.
Sharon met Jan through her work. Seeing the image of his late father in Jan, Joaquin considered Jan to be his true father after Sharon and Jan were married. Jan gave Joaquin a dog called Nex.
He was killed along with his mother by Voyager in T.C. 4667 on the planet Abraxas. Joaquin wanted to find his mother when Jan didn't come home, which is the reason he was at the Archon Cathedral.