Richard in Xenosaga I & II
Occupation
Ormus inquisitor
Appearances
Xenosaga Episode II
Xenosaga Episode III
Xenosaga I & II
Voice actor (Japanese)
Ryôtarô Okiayu
Voice actor (English)
Jason Spisak
| | | |
| --- | --- | --- |
| " | Entertain me! I'm in a really bad mood right now! | " |
Richard is the inquisitor of the secret society Ormus under the authority of Chief Inquisitor Margulis as well as the master of the rapier, partnered with Hermann.
Biography
Edit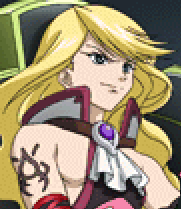 He is a member of an old family with roots that can be traced back to the Immigrant Fleet. His older sister and parents died in an accident in his early childhood; as a result, he became the young master of the house.
Hermann's family has served his family as personal retainers for generations.
His eccentric, almost split personality seems to have been brought on by witnessing his sister's death.
Xenosaga Episode IIEdit
Richard and Hermann attack Jr., MOMO Mizrahi, chaos and Ziggy on Second Miltia. Richard uses the A.M.W.S. Pilum.
When Richard first appears, he says "Long time no see! You remember me, right?" This is because he attacked MOMO and Jr. prior to Episode II.[1]
He later appears as an enemy on the Ormus Stronghold.
Xenosaga Episode IIIEdit
Richard uses E.S. Gad on Michtam. He is apparently killed by Shion Uzuki's group.
"I don't need it... so I'll break it!"
"Don't lose until I say you can lose, Hermann. If you die and leave me behind, I will never forgive you..."
"Meaning? There is no meaning, fools. I just wanna see your suffering faces!"
"How dare you do that to my toy!"
"My name... is Richard!"
"Destroy everything..."
"I'll smash you to pieces!"
Community content is available under
CC-BY-SA
unless otherwise noted.