Birthplace
Unknown (possibly Abraxas)
Voice actor (Japanese)
None
Voice actor (English)
None
"
Every morning I wake up and hear about some new tragedy on the news. I lost my husband once. I can't bear to see that kind of loss repeated over and over. Yes. For my son to be protected... that is the peace that I want.

—Sharon to a priest

"
Sharon Rozas was the wife of Jan Sauer (Ziggy), and a medical doctor at a Abraxas hospital in the Pied Piper game with extensive knowledge, even of the U.M.N.
Her son was Joaquin Rozas, of whom she birthed with a late police officer of the same age as Jan. Sharon was a teenage mother. Her husband died was an officer and died in the line of duty.
Xenosaga: Pied Piper Edit
She becomes involved, by her choice, with the Voyager case and worked closely with Jan Sauer. She and Jan quickly grow close to each over the course of the game and eventually get married very close to the end during the investigation. Sharon fears for Jan's safety because of her past with her former partner's occupation.
As a result of assisting with the Federation Police special investigations unit's case regarding Voyager, she remembered that she had once been called one of the people of Zohar. She was part of Ormus.
Sharon told an Ormus priest that she wished for happiness and safety for Joaquin and Jan, and in response, she was asked to make a contract with "God" at the Archon Cathedral during the Pilgrimage Council meeting.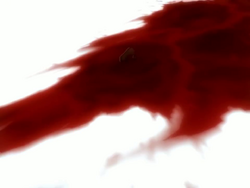 There, Joaquin found her there because Jan didn't return home. Voyager met Sharon and Joaquin, and he used his power of mind hacking on them. As a result, they falsely believed his promise for "eternal peace" with her family. She and Joaquin were engulfed in light radiating from Voyager and died in the process.