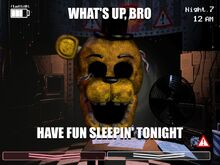 Hello. I am A Bear Head.
I do things that floating bear heads are said to do. I also scour articles for mentions of bestiality, orgies, pedophilia and child molestation because apparently having AlexShepherd on your wiki means having to watch out for that. It's not a great life.
"You shouldn't demonize pedophiles who haven't done anything." -AlexShepherd, August 2017
Dumbing down this wiki one edit at a time. Fetishes-b-gone!
( ͡° ͜ʖ ͡°)