| | |
| --- | --- |
| | This article pertains to Xenogears: the sub-database of Xenosaga Wiki. |
Age
Unknown (probably teenager or young adult)
"
God? Where does such a being exist? ...Can't you see that such a divine being just NEVER EXISTED from the beginning? And you don't seem to realize this, but you yourself were passing judgement on sinners as much as we were!

—Verlaine to Billy Lee Black

"
Verlaine is a friend of Billy Lee Black's in the Ethos church and a fellow Etone. Verlaine is actually a specially trained assassin working for Bishop Isaac Stone, responsible for observing and eliminating any "corrupt" people who appeared in the Ethos.
Xenogears Edit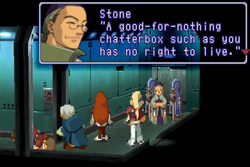 He rebels against his fellow assassins and tries to help Billy and his friends by revealing to him classified information on what Etones really are. He is killed by another of Stone's assassins during Solaris' raid on the Ethos Headquarters.
"God? Where does such a being exist? You should know by now how the 'Ethos' came about... It was an organization created by Solaris aeons ago solely for the purpose of managing ignorant humans. Its doctrines are just deceptions to control the masses. The 'Ethos' used the 2 sweet fruits of 'faith' and 'technology' well to skill fully manipulate global affairs and people's zeal. Thus, they manipulated the ignorant masses to repeatedly continue their pointless wars. Eventually battle data on 'man' and 'weapons' gleaned from these wars were sent to Solaris itself... And analyzed to aid in ruling the entire earth. These intentionally perpetuated wars caused so much psychological discord. But faith in 'god' ....salvation... was used as a cushion to soften the blow. It was a well thought out system. But the choice of managers was extremely poor. Or did you think that acting out the part of a faithful servant of god would someday yield an answer from a great god somewhere? Can't you see that such a divine being just never existed from the beginning? And you don't seem to realize this, but you yourself were passing judgement on sinners as much as we were!"
Community content is available under
CC-BY-SA
unless otherwise noted.