| | |
| --- | --- |
| | This article pertains to Xenogears: the sub-database of Xenosaga Wiki. |
Age
Unknown (likely young adult)
"
Can't you see that such a divine being just never existed from the beginning? And you don't seem to realize this, but you yourself were passing judgement on sinners as much as we were!"

—Verlaine to Billy Lee Black

"
Verlaine is a friend of Billy Lee Black's in the Ethos church and a fellow Etone. Verlaine is actually a specially trained assassin working for Bishop Isaac Stone, responsible for observing and eliminating any Ethos members that deviate from its true purpose.
Xenogears Edit
| | | |
| --- | --- | --- |
| " | But fear not, Billy. I shall cleanse you. You'll live within me. You will become one with me in death..." | " |
When the party first encounters Verlaine, Verlaine tells Billy about his father being "rather active again", and how much better of an Etone Billy is, compared to his father. Billy reacts negatively, stating he and his father are related "in blood only".
Later, when the Ethos headquarters is attacked, Fei and the party investigate deeper into the headquarters and find evidence of its ties to Solaris, and how Solaris uses the Ethos organization to gain supplies, slaves, and intel from the surface, as well as manipulate global affairs. The party also finds out the organization's plot to break away from Solaris, in order to pursue their own plans of world domination.
As Billy struggles with this, Verlaine reveals himself, stating that Billy has been 'defiled' in falling away from Ethos, and that Verlaine himself will cleanse him with death. Jessie enters and stops Verlaine with a stun bullet.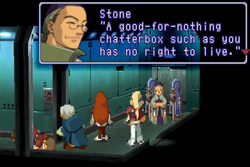 Jessie reveals that the attack is actually a 'purge', by order of Bishop Stone, in order to kill any Ethos members that are not affiliated with Solaris. Verlaine adds to this, revealing the extent of the crimes the members have done, as well as his duty to assassinate them. He also implies this were the sorts of duties Billy would have been tasked with in the future, had he stayed on his previous path.
Before Verlaine is able to explain further, he is killed by Stone and two assassins.
"God? Where does such a being exist? You should know by now how the 'Ethos' came about... It was an organization created by Solaris aeons ago solely for the purpose of managing ignorant humans. Its doctrines are just deceptions to control the masses. The 'Ethos' used the two sweet fruits of 'faith' and 'technology' well to skillfully manipulate global affairs and people's zeal. Thus, they manipulated the ignorant masses to repeatedly continue their pointless wars. Eventually, battle data on 'man' and 'weapons' gleaned from these wars, were sent to Solaris itself... And analyzed to aid in ruling the entire Earth. These intentionally perpetuated wars caused much psychological discord. But faith in 'god'... salvation... was used as a cushion to soften the blow. It was a well thought-out system. But the choice of managers was extremely poor."
Community content is available under
CC-BY-SA
unless otherwise noted.