This article pertains to Xenogears: the sub-database of Xenosaga Wiki.
Weltall (pronounced "velt-all", German for "universe") is a svelte but powerful black-red humanoid Gear. It is called the host for the slayer of god.
Origin
[
]
Weltall is based on the original Gear that came from the fusion of Lacan's Gear with the Anima Relic -Naphtali-, which formed Alpha Weltall.
Many of the Gear's black box components were Ether amplifiers and components used to transform the Gear into Weltall-Id.
Xenogears

[

]
Elly leads a top-secret mission to steal Weltall from Kislev.[1] Fleeing into Aveh airspace, one of her squad's Gears is shot down by the pursing Kislev forces. The shrapnel from the explosion injured her Gear, forcing the squad to land in Lahan Village so they could engage them on the ground, leading to the events that lead to Fei discovering Weltall and destroying Lahan.
As Fei flees with Citan with Weltall, they encounter Grahf in the deserts of Aveh, Weltall is injured enough to be easily taken by two Gears from the Aveh Military. Taken into custody aboard the cruiser, Fei and Citan compare notes. Citan says Weltall is "a top secret experiment model from Kislev", which meant that not only Kislev was after it, Aveh's forces were as well. Fei says he suspects the battle between Kislev and Gebler in Lahan was set up by Grahf in order to get Fei to climb into Weltall.
Weltall also gets the attention of Bart and his crew aboard the Yggdrasil I, who attack the Aveh cruiser in order to keep Weltall from falling into Shakhan's hands.
At the end of Disc 1, Weltall is tracked down and destroyed by Kahran Ramsus' Omnigear Vendetta. Weltall is rebuilt into the larger and more powerful Weltall-2 by Taura Melchior, of the three Sages of Shevat, at the start of Disc 2.
Gameplay
[
]
Weltall fights in barefists and is able to utilize most of its fighting moves based on Fei's Deathblows. His Ether magic is identical to Fei's Chi as his Guided Shot has a drastic change.
Gear Deathblows
[
]
Weltall utilizes both punches and kicks when utilising its moves and is based on Fei's Deathblows. It is also utilising drill kicks and somersaults when using its one of its moves.
Trivia
[
]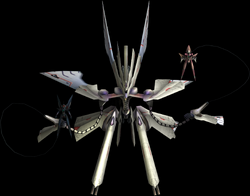 His Reppu and Shinrai move are also shared by Heimdal but in a different movement.
Weltall's Guided Shot is also used by Dan during his boss battle against Fei in the Bledavik Tournament.
Gallery
[
]
Videos
[
]
↑

ELLY : "Yes. Special Forces of the Sacred Empire of Solaris... also known as Gebler... I'm Lt. Elhaym Van Houten of the Ignas Army's Third Assault Division. And... while returning from a mission to capture the newest model Gear from a Kislev military factory... ... I was attacked by pursuing Kislev Gears and crash-landed in your village..."