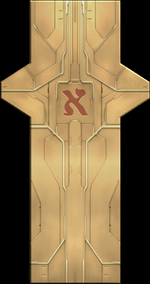 The Zohar Link Experiment was a mysterious test performed by the U-TIC Organization on the planet Ariadne. The experiment was overseen by U-TIC Lieutenant Commander Andrew Cherenkov and was an attempt to link one of the twelve Zohar Emulators to the Upper Domain (U-DO).
The experiment was an abysmal failure, and it resulted in the Emulator going haywire and causing the entire planet and its 1.5 billion residents to disappear into the realm of imaginary numbers where the Gnosis hail from. The only survivors of the incident were Commander Cherenkov and his team, who were witnessing the incident from orbit above the planet. The only physical object left after the planet disappeared was the Emulator itself.
Ariadne later returned to real space in the form of a massive type of Gnosis known as a Cathedral Ship. In spite of the colossal failure of the experiment U-TIC was still interested in performing more tests in the hopes of achieving different results. Sellers, the U-TIC and Hyams Group scientist spearheading the study of the Zohar Emulators believes that the experiment would produce successful results if the Zohar was used in the place of an Emulator. U-TIC Commander Margulis seems to echo that sentiment, along with most of the Ormus society. Zohar Emulators can be distinguished from the original because the emulators have letters from the Hebrew alphabet emblazoned in red.
Community content is available under
CC-BY-SA
unless otherwise noted.